When I was the Greatest by Jason Reynolds
Summary:
Ali lives in Brooklyn with his mother and sister. He's a decent kid and stays off the street. His mom works two jobs and isn't home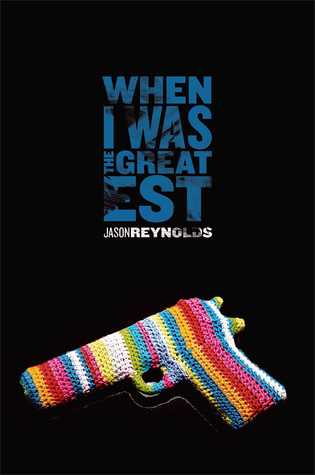 much, but she's still a strict disciplinarian and Ali fears her wrath. He spends most of his time on the front stoop of the house hanging out with his friends, Noodles and Needles, learning to box in a neighbor's living room, or hanging out with his little sister. His neighborhood isn't great, but folks watch out for each other…even when it means jumping into a dangerous situation that you'd much rather avoid.
Romance Score: You're Trying
This is a book with fifteen and sixteen year olds, it's not about romance as much as it about excitement and enjoying the view. There was a lot of description about how girls looked and about how they were dressed, but not so much about enjoying their personalities or interacting with them as people.
Feminist Score: You're Trying?
It was hard to place this one since the boys do objectify some (most?) of the girls they interact with, but Ali's mother, his sister, the upstairs neighbor, and Kim all serve to give examples of strong, kind, smart women surrounding Ali with great examples of ladies. Noodles and Needles' mom also serves to highlight the situation of women in the neighborhood – she is out a lot and her job is never clearly defined, we're given enough information to surmise, but not enough to know for certain. Noodles is obviously sensitive about her work, but there's never any judgment or criticism of the situation, mostly just sympathy.
Diversity Score: A+ Success
The characters here cover a fairly wide range of attributes: different income levels, dis/abilities, family shapes. Skin color in the book is pretty homogenous, but it should be; many readers will feel their own lives reflected in the neighborhood and Ali's interactions on his block. Needles has Tourette's Syndrome and it's woven in and central to the story in a powerful way. His character feels like a side story in the beginning and then it slowly builds momentum. Ali's dad was in jail for several years, but he is still fairly involved and comes back at somewhat regular intervals to check on Ali and Jazz. The boys' way of speaking is captured in away that is both recognizable  and accessible.
Awesome Factor: A+ Success
This is a book about Ali and the people around him. There's some action, but it unfolds slowly and wraps up fairly quickly. I was drawn in by the characters – I felt like I could walk down Ali's street and know exactly who he meant when he described each person. I loved the juxtaposition of innocence and teenage bluffing that Ali and Noodles must find their way through. The relationships really made this story what it was.
---
Favorite Character
Ali because he is not afraid to stand up for what he knows is right, stick to his friends and family, and still do what he needs to while navigating the rules of the neighborhood/street. As a parent obeying, rule follower myself in high school, I appreciate Ali's struggle to balance what would be fun and what he knows his mom would allow. I admired his strength and his willingness to hold on to the softness within himself.
Honorable mention: Jazz because she's a good cook, makes up great nicknames, and takes care of her big brother like a little old lady would.
Favorite Line
There were several great lines:
Most of our neighborhood accepted Needles for who he was. No judgment. I mean, it's New York. A man walking down the street dressed like Cinderella? That's nothing. A woman with a tattoo of a pistol her face? Who cares. So what's the big deal about a syndrome? Whatever. It's in our blood to get over it, especially when you're one of our own, and by that, I mean, you live on our block. (17)
The first thing we had to figure out was where to get yarn from. It's funny. When you don't know nothing about something, you really don't know where to even begin to find stuff that goes with the thing you don't know nothing about. (28)
"And I'm only gonna teach you because I know you won't abuse it, like some of the other kids around here. You love first, and that's always a good thing. You're not fighting the war that so many of the other kids are fighting. You're rebelling against it, like Muhammad Ali. You know who that is?" (51)
Is this worth a book hangover?
I really enjoyed this book and think that it will be absolutely a favorite for some people. It may be a life line, too. It portrays place and people beautifully and really captures Ali's community. I definitely recommend it! I also love that he's nicknamed after Muhammad Ali.
Post Author
Jess loves SFF – old and new school –  and is learning to appreciate the more lovey-dovey YA under the careful tutelage of Anisha's recommendations.