Beneath My Mother's Feet by Amjed Qamar
Summary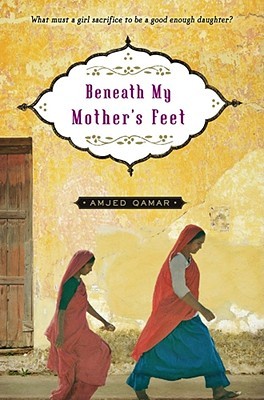 After her brother leaves the family and her father is injured at work, Nazia finds a lot of the responsibility to care for her family falls on her shoulders. Her mother does what she believes is necessary to support her three children, pulling Nazia from school and becoming a maid for several women in the city's rich neighborhood. As things with her father deteriorate, Nazia must navigate friendships, social barriers, and the line between right and wrong to decide what kind of life she will make for herself – while continuing to honor her beliefs.
Romance Score – Not A Bit
Nazia has long known she is destined to marry her cousin. The wedding becomes imperative once the family's situation worsens, but her mother's decisions put the pairing in jeopardy. Nazia's feelings toward her future husband are ambivalent at best and, once she meets him, even less positive. It is not the idea of an arranged marriage, but the economic and family pressure coupled with the lack of interest Nazia has toward her betrothed that drop the score.
Feminist Score – A+ Success
Without spoilers, I can say that Nazia makes decisions about her life for herself, choosing the path that will make her happy and, ultimately, probably will enable her to help her family even more. Her mother is also a pretty awesome figure, doing what she believes is right for her children even when it means suffering indignities and abuse from her employers/life. This book highlights the various situations of women in Pakistan without making it an "oh, look at the poor foreign women" story (more on this below). There is some cruelty rained down from the wealthy mistresses, but because Nazia is such a strong, self-respecting character I'm saying it balances out (and that this is more classist behavior than woman-on-woman, although ignoring classism is definitely a big part of the problem with some current feminist movements). This book does fall a bit into the "all men are bad, let's hate them all" category, but if you remember that this is ONE story of multitude then I can get over it.
Diversity Score – Good Effort
I'm in two minds about this score – on one hand, it could go to A+ Success because it's set in Pakistan, has only Pakistani characters who are (mostly?) Muslim and for most of the US audience this would be a huge check in the diversity box. BUT, for Pakistani-Americans or Pakistanis, this would be a book about their culture, families, and homeland with little diversity. Even so, there are wide ranges of economic classes, education level, and employment types in the book, so other types of diversity are on full display if we discount nationality and religion. Plus, since we're reading in the US, I'm grading based on that and I'm so excited to see a book about Muslims in another country just going about their lives like everyone else – though, it does feel like the author may have a bit of a n ax to grind about women's treatment in Pakistan.
Awesome Score – Good Effort
I really liked reading Nazia's story- I admired her efforts to see the best in people and to do what she can to ease her family's and friends' pain. She is strong and resourceful and stubborn, all things I like in my characters. I loved that the book was about a mother and daughter butting heads but still able to show and share their love for each other. Also, I truly felt like this was about Pakistan, with small details capturing every day life while not alienating the (non-Pakistani) reader. It's a little light on depth and not super original, but I liked Nazia's spunk enough to give it a higher score. The story is pretty negative towards men and I do worry that it repeats a lot of tropes/stereotypes about life in a Muslim country, but I think that it is also an honest portrayal of what life can be like. I think, if it's coupled with another Pakistani story that's completely different, that would go a long way to ameliorating the "one story" problem.
---
Favorite Character
Maleeha – Nazia's best friend never gives up hope and is the kind of person we should all be lucky to have in life – she's willing to tell you the difficult truths, keep your secrets, and rescue you for a day at the beach when you really need it. I liked that we had this image of girls supporting each other through thick and thin (and the contrast with Nazia's other friend).
Note: I could have gone with Sherzad because he kept his spirits up and was so positive, but since we don't know what happens to him in the end I couldn't let myself choose him.
Favorite Line
Fun Author Fact
Her characters will get into her mind and take over, making it hard to concentrate and even sleep (!) until the story is fully developed and ready for writing!
Is this worth a book hangover?
I think you can get your sleep with this one. It's an interesting story but it doesn't pull you in like some others. I would also recommend this for younger YA rather than YA/NA readers. I do think it's important to remember that this is ONE story about ONE girl's life in Pakistan. Not every girl will have the same life – even Maleeha, a girl from Nazia's neighborhood and economic class would have a totally different story.
Read this Next
Written in the Stars by Aisha Saeed (reviewing soon!) or Keeping Corner by Kashmira Sheth.
Post Author
Jess loves SFF – old and new school –  and is learning to appreciate the more lovey-dovey YA under the careful tutelage of Anisha's recommendations.