The Wrath and the Dawn by Renee Ahdieh
Summary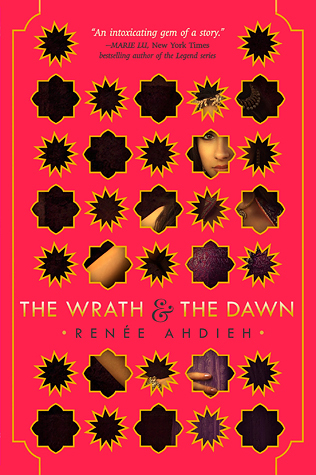 The king keeps getting married. And every morning his bride is murdered. After Shahrzad's best friend falls victim to the nuptial death, she decides it's time for someone to do something about it. She volunteers to be the next bride and is determined to survive while ensuring that the king does not. But, as she steals each new morning by telling a story and ending it just as the action climaxes, she gets to know the young man responsible for so many deaths…and things are not what they seem.
Romance Score: Good Effort
I liked the slow burn of emotions and the secrets and discoveries that allow the characters to open up with each other. There's a love triangle here, but it's not awful since the characters are rarely in the same place at the same time. We'll see if that stands up in the second book. The romance is sweet, but Shahrzad's first night with one of the men takes things down a notch. It's not exactly the most romantic, healthy, or happy way to be introduced to sexy times and, while Shahrzad willingly accepts that it's a necessity to achieve her goals, it does make me a little sad…even if it gets redeemed later in the story. EDIT a long time later: I don't know if I would give this score now. The relationship is couched in swoony language and makes it out to be romantic, but Shahrzad is essentially a prisoner and it feels a little creepy that the relationship goes the way it does considering the situation. (See note below in Feminism Score from original post.)
Feminism Score: Good Effort
I really like Shahrzad – she's feisty, smart, dedicated, and kind. She knows what she wants (to kill!) and she knows how she's going to do it (survive!), but she doesn't let that get in the way of caring about the people around her. She speaks up when she has an opinion and she knows how to use words to gain power (the dinner scene with the king's uncle is great). I think she does a decent job navigating the difficult place between first love, confusion about love, and being a good person true to herself, but there are still issues. The guys in her life are jealous, their honor is all wrapped up in her behavior, and they want to police everything she does. It's frustrating but a. something readers still have to deal with while reading today and b. a fair representation of some of the men from the culture the source-story is pulled from. Since Shahrzad is the one (mostly) calling the shots in the story, I'm still giving it a high score.
BUT – I have to point out the power dynamic here and that, even if things change, the king is a king and Shahrzad is in no place to contradict him so sexy-times are not based in an equal and fair relationship. This part of the story was a  big NO GO for me.
This is another book where it depends on who is reading. To many readers, it introduces a world that will be unfamiliar and which includes richer, deeper cultural references than they get elsewhere (cough Aladdin cough). For readers that know Shahrzad's story from their own bedtime tales, it will feel much more familiar. It is an exciting addition to the list of books that include magic, swords, and royalty outside the European (or European-esque) tales usually available. We don't get many other representations, however – the characters are mostly wealthy, educated, and of the same background. Ability levels, appearance, and education levels are fairly standard with a few exceptions.
Awesome Factor: Good Effort
I'm very excited by Shahrzad's story! I like seeing this kind of adventure playing out in an uncommon (for published US books) setting. I think the characters are interesting, the mystery plays out well, and I'm intrigued to learn what will happen in the second book. I think a few pieces could have been more developed – the magic seems a little random and unclear. There's an interesting parallel between Shahrzad's father and the father that started everything else; right now, it seems underdeveloped, so I hope that is teased out a little more in the next book. I'm also waiting to see what triggers Shahrzad's growth in strength/power as well.
---
Favorite Character
Despina – Yes, she's that stereotypical straight talking servant girl that tells Shahrzad what's what, but she's also great! And, I love her backstory; it's sad, but not too sad and also illustrates the traveling and mixing of cultures that happens naturally in life. I also appreciate the side plot involving her, love, and big decisions because it rounds her out. I hope it plays an important role in the next book.
Favorite Line
"I am young, and, therefore, I know my words only carry a certain weight with the world, but I do know enough to realize you cannot control the actions of others. You can only control what you do with yourself afterward."
Shahrzad is a smart girl, but it's more about the total scene surrounding these words; she's trying to comfort the king's old tutor and it's very sweet and gentle and wonderful.
Is this worth a book hangover?
Absolutely! I loved the world Ahdieh has built around the source story (A Thousand and One Nights) with great, strong characters and a truly compelling story. Plus, there are SO MANY details! It absolutely felt like palace life.
Fun Author Fact
Renee Ahdieh is a huge fan of Alanna from Tamora Pierce's Song of the Lioness series, too!
Read This Next
Court of Fives by Kate Elliot for a strong lady lead doing what she can to fight the system or Sister Light, Sister Dark by Jane Yolen for a story about a girl with powers, stories, and a society to change.
Post Author
Jess loves SFF – old and new school –  and is learning to appreciate the more lovey-dovey YA under the careful tutelage of Anisha's recommendations.