Written in the Stars by Aisha Saeed
Summary
Naila is dealing with life in the US under the watchful eye of her Pakistani-immigrant parents. It's not an easy life and, when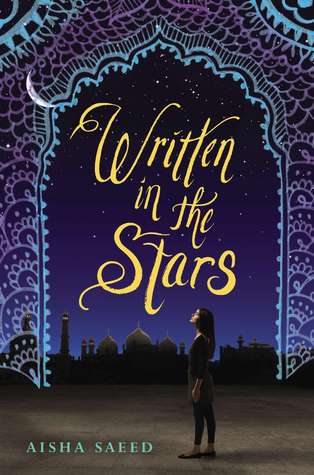 Naila  breaks their rules, her parents react to the extreme. Naila's parents pack the family up and they return to Pakistan to reconnect the family with their roots and to visit relatives. But, the trip takes a serious turn when Naila finally realizes that her parents have an ulterior motive for the trip – they're finding Naila a husband and they won't take no for an answer. When she resists, Naila's life is taken out of her own hands. She ends up a wife, cut off from friends and the life she knew, and her only escape is the slim chance that her secret Florida boyfriend can find her.
Trigger warning: family/domestic violence, sexual assault, forced marriage
*This book is about a girl in a very difficult, awful situation and thus the top two scores are lower than it would seem the Awesome Factor warrants. Naila does what she can to fight, but there's only so much she can do to succeed.
Favorite Character
It's hard to really LOVE any of these characters because of either limited time with them or, you know, they're being awful. But, Naila's cousin, Selma, is a sweet, supportive character, even if she keeps secrets she shouldn't. Saif is also sweet, but a little flat since we don't actually see much of him.
Favorite Line
"Life is full of sadness. It's part of being a woman. Our lives are lived for the sake of others. Our happiness is never factored in." I don't agree with this in actual life, but totally understand how Naila would come to this conclusion after everything she's been through.
Fun Author Fact
Aisha has contracted for another book, due out in 2017! And, she's the VP of Strategy for the We Need Diverse Books nonprofit, too!
Is this worth a book hangover?
This is a seriously tough book – I read it in one sitting, but it was hard and I had red, swollen eyes by the end. I think it's an important book and I think the characters and story are compelling, but I think reading it in shorter pieces would have broken the intensity a bit.
Read These Next
The Wrath and the Dawn by Renee Ahdieh captures a marriage entered into willingly but with an equally difficult story behind it or Beneath My Mother's Feet by Amjed Qamar for another Pakistan story about facing difficult decisions about life, family, and responsibility.
Post Author: Jess
Jess loves SFF – old and new school –  and is learning to appreciate the more lovey-dovey YA under the careful tutelage of Anisha's recommendations.