An Ember in the Ashes by Sabaa Tahir
Summary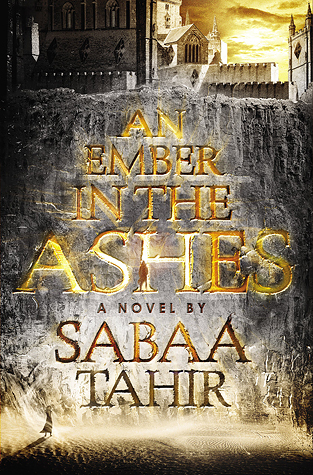 Laia and Elias live on the two ends of the social spectrum – one as a slave, a member of a conquered people, the other as a  soldier-student training to join the elite legions of the tyrannical forces. Neither is free. And both want freedom. Their lives become intricately entwined as they  attempt to escape the chains around their lives and to fight against the Martial Empire.
Trigger warning: sexual violence/assault, talk of rape, assault, abuse, torture
Romance Score: A+ Success
There are some very steamy moments in this book and none of them felt forced. I appreciated that the love interest(s) were organic and didn't feel like a triangle just to have a triangle. I really liked that both Laia and Elias got stories and the relationships and situations that built up the romantic tension felt natural. There are moments/threats of sexual violence, but I took points off elsewhere because I didn't think they affected the romantic relationships in particular.
Feminism Score: Good Effort
There are SO MANY awesome ladies in this book and they all make different choices and lead different lives, but are equally fantastic. Laia, Helene, Laia's grandmother, Cook…so many. Laia is a slave and she definitely starts out meek, but she finds her strength. She doubts herself and she's terrified a lot of the time, but she still does what she has to. Unfortunately, there's a lot of sexual assault or threats of assault/rape, plus targeting women/girls in the school, so I can't give it a full score. It does seem to fit the world-building, but it's still unfortunate to read a book with such strong leading ladies and then have them dealing with gender-based threats throughout the book. (Then again, people may see this as a positive since it means the book reflects the experiences of current day lady-readers.)
Diversity Score: Good Effort
The book is told by alternating perspective – we get both Elias and Laia's stories and viewpoints and you feel the difference. Additionally, there's a ruling class and slaves, a girl that has to fight against rampant, violent sexism among her classmates, and slaves that fight ALL kinds of violence. Additionally, the students are basically child-soldiers so that's another awful, social-ill that we get included. So, that equals a pretty full spectrum for the book diversity; we also get bonus diversity from the author – she's of Pakistani descent and was born in London. We'll see how the world develops in the second book and how the new locations add to the diversity.
Awesome Factor: A+ Success
Overall, I really liked this story and thought it did a great job introducing the characters and world. I'm excited to see what comes next for Laia and Elias and SO GLAD that Tahir was signed for a sequel.
---
Favorite Character
Helene – she's a badass trained killer who keeps her optimism and is judged a little unfairly by her best friend. She doesn't let the school beat out all of her emotions and she tries to trust, hope, and love to the best of her ability while being committed to the values and goals that she's been raised to follow.
Favorite Line
Guys, I'm sorry. I've been failing in this department and I'm giving the metro excuse again. I have been trying to take pictures of the best lines so I have them on hand once I return the books to the library, but it's been tough and I'm forgetful. But, the writing in this book is fast-paced and action packed. It moves right along with the story and felt like it fit the tone perfectly. And, there are some great little quips in there, too.
Fun Author Fact
Sabaa Tahir is a BIG fan of music and she posts playlists on her blog! Also, she's been offered a second book contract for the sequel and it has been optioned for a possible movie!
Is this worth a book hangover?
For sure – it's fun, fast, and fantastic (really, there's magic!). I thought the characters were engaging and the story had enough excitement to keep me turning pages to finish in one sitting. Plus, I'm on the edge of my seat waiting to find out what happens next!
Read These Next
Court of Fives by Kate Elliot for another world divided by class with characters fighting to break barriers or The Wrath and the Dawn by Renee Ahdieh for a kick ass heroine trying to understand why the king's brides must die.
Post Author: Jess
Jess loves SFF – old and new school –  and is learning to appreciate the more lovey-dovey YA under the careful tutelage of Anisha's recommendations.