The Sacred Lies of Minnow Bly by Stephanie Oakes
Summary
Minnow's parents decide to follow the Prophet into the wilderness. As part of the select group lead by his prophecies, they're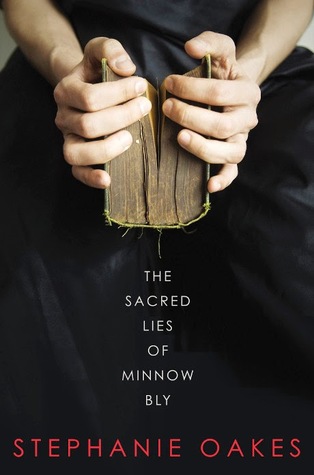 community learns how to live truly and serve the Prophet's rules. But, Minnow is able to remember life before the Prophet. And when she makes a friend with someone she shouldn't, the questions that had been slowly growing finally bloom into full doubt. But – that's not when we meet Minnow. No, we meet her after. After she's lost her home. Her family. Her community. Her arms. And maybe herself.
Romance Score: You're Trying
Part of Minnow's relationship with Mr. Woodsman are cute, but ultimately, it's two damaged teens trying to find solace from situations that are pretty messed up. And, while I'm glad she was able to think through and get over her community's racism, I still feel like it happened pretty quickly. And, while Mr. Woodsyboy is sweet and there for Minnow when she needs someone, he tries to do the exact same, possessive stuff that she experienced at the community.
Feminism Score: Good Effort
This book is SO MESSED up in several ways – the community's treatment of women, the perpetuation of rape culture (women are the holders of men's honor, women need to dress modestly because it's all their fault), and the ultimate punishment doled out to Minnow – so many wrongs. But, there are a couple of stand outs – Minnow herself doesn't allow the Prophet to erase her humanity, Minnow's roommate doing what she can to protect the newbie, and Minnow's mother finally breaking out of her abuse-induced daze (maybe). I'm going to focus on the positives of Minnow's resiliency and strength – and willingness to accept her broken spirit to heal – instead of the awful, brainwashed women in the community, especially Minnow's sister.
Diversity Score: Good Effort
I'm giving this book points for including a minority religious group – although there is something to be said for who gets to decide what is a "legitimate" religion or not. I definitely think the Prophet's group is an unhealthy, unsafe, cruel place/cult, but I think we should consider not discounting small congregations just because their different from the mainstream. Points also for Minnow arm loss – living without limbs means moving through the world differently, having to adapt everyday tasks, and I think the book did a good job of showing that – especially while Minnow is in detention. I also give points for showing up life in the detention center without making it exotic. The girls in there have done things, but listening to most of their stories we learn – through Minnow – that the world unfairly punishes them for protecting themselves.
Awesome Factor: Good Effort
All the pieces come together to make an intense read. The community, the escape to a tree house, finding a sweet, innocent love outside the confines of the Prophet's rules, and Minnow's desire to keep her own secrets all create a pretty great whole. It was a little too much at times, but I still have recommended it to several people. I think the ultimate lesson that girls need to take their fate into their own is the takeaway.
---
Favorite Character
Angel – she does what she can to survive, keeping her hard exterior as protection, but she never really totally eliminated her heart.
Favorite Line
"…and I think that's what love does, makes you strong. Makes you think nothing can bring you down. It's the only kind of lie that I'd be happy to live with."
Even in a dark place, Minnow can hope…even if it's sexy times that gets her there.
Is it worth a book hangover?
Honestly, it's a disturbing read, but I couldn't put it down. I really liked Minnow's voice and the cast of characters that joined her.
Fun Author Fact
Oakes based this off the fairy tale, "The Handless Maiden."
Read These Next
Devoted by Jennifer Mathieu for another girl finding her way through (or out of) a religious community or Conviction by Kelly Loy Gilbert for a boy lead by faith trying to decide how much he should say during an investigation into his father's actions.
Post Author: Jess
Jess loves SFF – old and new school –  and is learning to appreciate the more lovey-dovey YA under the careful tutelage of Anisha's recommendations.