It's been a month since my last post and that one was belated, too. To remedy my long-delayed posting, I'm going to do a round up with short reviews of the things I've been reading. This way, they still get the kudos they deserve and I can feel less guilty about all the draft posts languishing in my drafts folder.
RUN by Kody Keplinger
This story follows two girls as their friendship grows and they face difficult decisions about
who they want to be and how to escape the expectations their family and town have for them. Agnes is a rule-follower and Bo is the "wild" girl with the "bad" background.
I loved how truthful this was about the intensity of friendships and how they can be both good and bad for you. I thought the strength each girl took from the other was important and that they could take misguided steps that lead them somewhere more healthy/happy. On the diversity level: This takes place in a rural town, so (lack of) privilege is woven into the story, Agnes is blind, Bo is bisexual, and this is #ownvoices (Keplinger was born legally blind and co-founded Disability in Kid Lit!).
On the Edge of Gone by Corinne Duyvis
Earth's end is finally here – a comet is hurtling toward the planet. Denise, her mother, and sister try to make their way to the government shelter, but delays interrupt their plans and they end up on a grounded ship that will launch into space and save its passengers once it can take off. But without the extensive vetting that the other passengers had, Denise has to prove her worth to keep her and her family safe.
This was an interesting look at how different people deal with the end of the planet and what accommodations needs to be made for all kinds of people to survive and flourish. I so appreciated that, thought it's an "apocalypse" story,  it's not explosions and high intensity action – it's much more drawn out and about the people. Diversity wise: Denise is biracial and has autism (#ownvoices), her sister is transgender, and her mother is a drug-addict. These characteristics are integral to the plot without being the plot, which makes it even better.
Whale Rider by Witi Ihimaera
Kahu is born when her grandfather is looking for the next great male heir to the chiefdom.
His disappointment at her being a girl is woven throughout everything he does, but Kahu has the love and support of her uncle, grandmother, and father. And through her  perseverance and love in the face of disappointment and the weight of tradition, she may just change everything. Maori stories are woven throughout the book and included in interludes between sections of the plot.
I loved the movie adaptation of this when it came out and was excited to finally read this. I would say this is on the lower end of YA, closer to middle grade, but it was still engaging. This is a great example of how adaptation and gender equality (or progress toward it) can come from within a tradition and a look at how colonialism can affect indigenous peoples. Diversity: This is #ownvoices from a Maori New Zealander.
Gabi, a Girl in Pieces by Isabel Quintero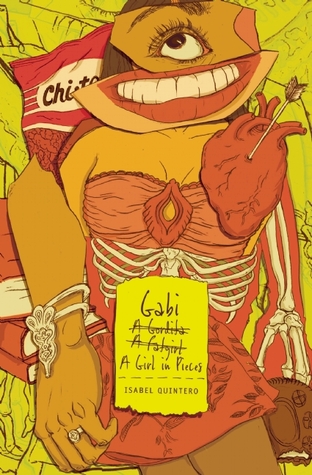 Gabi tells her diary about the struggles with boys, food, friendships, and her family's expectations – and we get to read it all. She writes poetry, figures out what being "good" means to her, and helps her best friend through pregnancy and motherhood.
Gabi's voice is amazing and her character comes through on every page. She is dealing with a lot, but manages to find optimism through everything. I don't love diary-type stories, so this book's style wasn't really for me, but I still loved getting to know Gabi! Diversity: Gabi is Latina, one of her best friends is gay, she's dealing with an addict parent, money is a problem, and this is #ownvoices.
---
Shout Outs
Not going to go into any detail, but you should also DEFINITELY check out:
A Torch Against the Night (#2 in a series) by Saba Tahir
Crooked Kingdom (#2 in a series) by Leigh Bardugo
Court of Fives (#1 in a series) by Kate Elliot (Elliot is a new favorite, read ALL her stuff)