The Boy in the Black Suit by Jason Reynolds
Summary
Matthew is a high school student dealing with a lot – his mom recently died and his dad isn't handling it well – and Matt is just looking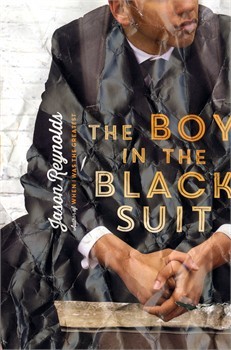 for a way to handle all his emotions. When he's offered a job at the local funeral home, he decides to take it and finds a strange sort of comfort in the grief and pain of others. Then, he meets a girl and things get even more complicated.
Romance Score: Good Effort
Matt gets a crush very early in the story and it slowly unfolds in the sweetest way possible. I really liked their relationship and the great dates they went on. I appreciated that Matt had his parents' relationship and Mr. Ray to give him guidance, and the advice from his best friend, Chris, made me laugh. The relationship is central to the story, but also ancillary to the emotional roller coaster and growth that Matthew goes through.
Feminist Score: Good Effort
The women in this book affect Matthew a lot – he is reeling from his mother's death and she was a force to reckon with – but they aren't the main characters. There's a strong score here because Matt respects the women in his life and treats them kindly – this could have gone very wrong since it's high school age boys being depicted, but even Chris's advice is more encouraging banter than crude awfulness. I appreciated that all the older men respected and loved their wives as well. The one tough part is a key experience from earlier in all the characters' lives; unfortunately, it reflects a truth that, hopefully, will be less and less true as time goes on.
Diversity Score: Good Effort
This is another book that really depends on the reader for its diversity score. It takes place in New York City, in a predominantly black and low income community. To some readers this will have a score of "Not a Bit" because it reflects their community, family, and life exactly; to others it will score "A+ Success" because it tells a story through a character in a setting they may not have ever met or experienced. I'm giving it this score because I think it respectfully portrays the people involved while successfully capturing the life of the community and depicts life and people that aren't very common in the printing/publishing world.
Awesome Factor: A+ Success
As someone that went to lots of funerals as a child and teen, I understand where Matt is coming from in his need to connect with others (but not claiming my experience as even closely similar). I also saw Reynolds speak at the NOVA Teen Book Festival and he talked a lot about how grief and humor aren't mutually exclusive. I think he did a great job balancing the two here and loved Matthew's journey through his grief. I loved the cookbook and the use of the kitchen and food to reflect his emotional process.
---
Favorite Character
Mr. Ray – He's such a great role model for Matt, is a foundation for the entire community, and I love his care and concern for everyone, but especially Matt. I also really appreciated his backstory – I think it's so important for there to be adult characters that have history. Sometimes teenagers (heck, EVERYONE) forgets that adults have their own difficulties, pains, and sorrows – and Mr. Ray is a great example of how our beginnings affects us through the rest of our lives.
Favorite Line
"Of course, I couldn't tell him the truth. The truth that I was having a hard telling myself. I liked the funerals…I liked watching other people deal with the loss of someone, not because I enjoyed seeing them in pain, but because, somehow, it made me feel better knowing that my pain isn't only mine. That my life isn't the only one that's missing something it will never have back."
Oh Matt, I feel for you so much.
Is this worth a book hangover?
I definitely recommend this! I also reviewed Reynolds's When I was the Greatest and I think I'm putting him on my "must read" list. He does a great job creating sweet, earnest characters with deep, heartfelt stories. Plus, I love the sense of place and community that he builds.
Fun Author Fact
Reynolds talks to himself on the way home from the train so he doesn't forget new characters and plots. He was also "forced" to read because an aunt kept giving him books as gifts and he decided to finally give them a chance.
Read This Next
Obviously, check out our review of When I was the Greatest, but also try Yaqui Delgado Wants to Kick Your Ass by Meg Medina.
Post Author
Jess loves SFF – old and new school –  and is learning to appreciate the more lovey-dovey YA under the careful tutelage of Anisha's recommendations.