Under a Painted Sky by Stacey Lee
Summary Sammy and Andy are running away from their lives. Sammy has just suffered a terrible loss and Andy is chasing freedom. One is Chinese-American and the other is a black slave.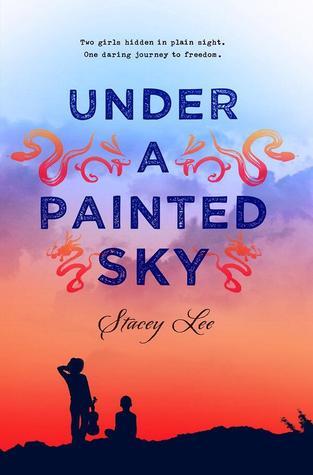 They leave their frontier town to join the other pioneers going West, but traveling the Oregon Trail alone isn't easy – especially as a girl and wanted criminal. So they dress up as boys and make their way, but just a few days into their escape, they meet up with three young men who might be willing to take the novice travelers under their wings – for a price. As the small group travels across the Plains, their friendship grows and their relationships with the boys deepen. But, as all Gen Xers (and some Millenials) know, the Oregon Trail is a road full of obstacles – fording the river can kill oxen, dysentery and cholera lurk in every stream and camp, and supplies can be hard to come by. This is an adventure story with two strong, dedicated friends at the center.
Favorite Character Andy – she's honest, caring, and has some of the best one-liners regarding young man behavior! I appreciated her dedication to her family and her determination to hold on to hope for as long as possible.
Favorite Line "She might be right, but it still fails to cheer me. I don't understand the constant need to prove one's manhood, as if it is always on the verge of slipping away. We never need to prove our womanhood." Captures the essence of a lot of relationships in this book! There are a lot of other great quotes that capture Sammy's background as a Chinese-American and it's hard to pick just one, but the above captures the girls' difficulties as they journey.
Fun Author Fact She wrote her first book (in childhood) on a typewriter!
Is this worth a book hangover? I feel like this book is a great summer read – especially for a road trip! It's a quick, light adventure story with good, strong characters and the addition of Sammy and Andy's personal backgrounds help make it more than just another Western. Also, take a look at that BEAUTIFUL cover!
Read These Next The Girl of Fire and Thorns is another journey book – with magic. Any of the Tortall books by Tamora Pierce would also be a great choice as they feature awesome ladies journeying and making connections with people they meet.
Post Author: Jess
Jess loves SFF – old and new school –  and is learning to appreciate the more lovey-dovey YA under the careful tutelage of Anisha's recommendations.