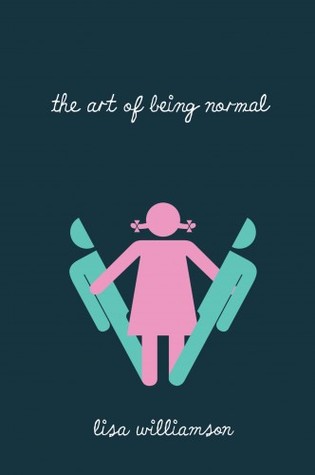 The Art of Being Normal by Lisa Williamson
Summary
David has always been on the outside of his school's social hierarchy, but he's always had his two best friends. And they know his deepest secret.
Leo is starting over at a new school hoping to use the opportunity to get away and find a better life. He wants to stay invisible through senior year so he can work toward that goal.
When Leo stands up for David in a fight, everything changes and leads to secrets revealed and friendships born and tested.
Romance Score: Good Effort
I liked Leo's relationship with Alicia. I thought it evolved naturally and the reasons they fell for each other felt right. I think that Alicia's reaction to learning more about Leo was also pretty realistic for the situation, though I don't think it is an easy or fair reaction. I appreciated that they were both given a second chance and that each was willing to accept that second chance.
David is younger and less mature and that shows in his  longing for the high school hottie, but that also seemed fitting. (Edit: I use "David" here because that is where the character is when the crush is first revealed, but it would be more appropriate to use she/her throughout this review.)
Feminist Score: Between You're Trying and Good Effort
I liked some things from the story: the characters being true to themselves and finding the friends that care enough about them to let that truth live, the parents that are doing their best to love their kids as well as they can, and the courage to stand up for themselves. But, I felt like some of the stuff was stereotypical and didn't really expand on much besides what is kind of expected.
Diversity Score: Between You're Trying and Good Effort
This book is about transgender characters and characters of color and poverty and privilege and it hits some "right" notes. But, it also felt a little too quaint and like "here's the story all wrapped up, with drama and closure." I'm not exactly sure how to explain why things didn't sit with me, but they didn't. I think reading reviews from transgender characters may help tease this out, many of them said this is a book about them and not for them.
I did like that we saw how characters from poverty had to deal with something really difficult, though, because access to wealth can make a huge difference in how parts of this story may play out. It is also important that this takes place in England and not in the US, since health care access is very different in the US and access is much more separated.
Awesome Factor: Between You're Trying and Good Effort
I wanted to know more about the characters and I was interested in their stories, but I felt like they were shallow and we didn't actually get much in this book.
I really wanted to like it and I appreciate that this book shows that there are layers and layers of difficulty to everyone's lives. But…it was lacking something.
---
Favorite Character
Felix and Essie, who really feel like one character full of life and lots of loyalty.
Favorite Line
I'm not sure anything really stood out for me.
Fun Author Fact
Lisa Williamson is also an actor.
Is this worth a book hangover?
I'm not sure. If you are looking to learn more about transgender people and their stories, there are some great books coming out written by and about transgender people that may hit the notes a little better.

Read These Next
If I Was Your Girl by Meredith Russo for a story falling in love while keeping a secret (this one is #ownvoices and we'll be reviewing later this summer).
Post Author: Jess
Note: I received my copy through NetGalley in exchange for an honest review.