Dumplin' by Julie Murphy
Summary
Willowdean is trying to figure out life – what is happening between her and her best friend, Ellen? Does the cute guy at work like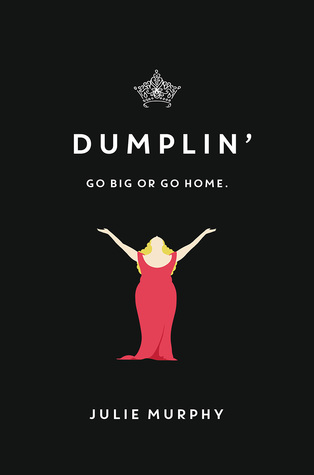 her or is she imagining the flirtation? Why can't her mom (and everyone else) accept that she is fat and happy?
We follow Willowdean as she works her way through these questions and more – finally ending with a new group of oddball friends, a boyfriend that loves her for her, and the beginning of a new kind of love between mother and daughter. And Dolly Parton. Always Dolly.
Note: I use the word "normal" to refer to the majority/default white, cis, hetero world. That's not ok and I'm working on!
---
Favorite Character
Aunt Lucy – Even though she's no longer alive, she still serves as a great example and supporter for Willowdean.
Favorite Line
Three stood out to me because there are some great one line zingers:
"Plus, having sex doesn't make you a woman. That is so freaking cliché. If you want to have sex, have sex, but don't make it this huge thing that carries all this weight."
"Marcus mumbles something about PMS and to my surprise, from the kitchen, Bo says, "Why can't she just be having a shitty day? You don't need to make up some bullshit reason why." (THANK YOU.)
"There's something about swimsuits that make you think you've got to earn the right to wear them. And that's wrong. Really, the criteria is simple. Do you have a body? Put a swimsuit on it."
Fun Author Fact
Inspiration for her first book came from a discussion/argument with teens in a library about where they would barricade themselves in said library if the zombie apocalypse came.
Is this worth a book hangover?
Yes – while we both had mixed feelings about, I think the character driven story makes it a fun, quick read. The positive representation of a fat and happy character – as well as her new friends – will be really meaningful for some readers.
Read These Next
Gabi, a Girl in Pieces by Isabel Quintero for a year in high school where everything is changing or Big Fat Manifesto by Susan Vaught for another fat girl owning her size and making others reexamine their assumptions through a school newspaper column.
Post Author: Jess
Jess loves SFF – old and new school –  and is learning to appreciate the more lovey-dovey YA under the careful tutelage of Anisha's recommendations.