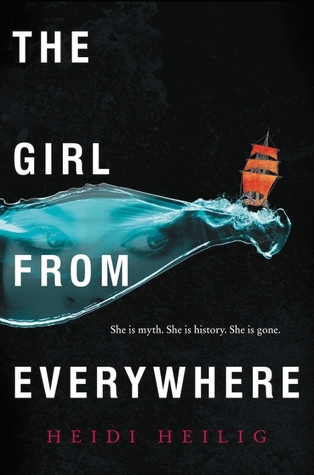 The Girl From Everywhere by Heidi Heilig
Summary
Nix travels on her father's ship as he Navigates across time searching for a way to return to his beloved dead wife, Nix's mother. Nix isn't sure what will happen if he succeeds, but he's the only family she has, so she does what she can to track down the next piece in the puzzle of their journey. Their adventures have taken them to mystic Persia, ancient China, and more, but now they've become entangled in political intrigues in 19th century Hawaii and everything may unravel.
Nix may find the answers she's looking for, the family she's always wanted, or…she could find the end to everything.
WARNING: Our podcast has SERIOUS SPOILERS and you don't want to mess up your first read of this book – STOP LISTENING and GO GET THIS BOOK if you haven't read it yet.
Favorite Character
Nix! – She is smart, resourceful, passionate, caring, and committed to making the best life choices she can. What a great character for readers to have!
Favorite Line
And once everyone agrees something is one way, all the other ways it could have been disappear.
I love the idea of unending possibilities and that dreams can create worlds if we believe in them.
Fun Author Fact
Heilig has an MFA in Muscial Theater Writing which is very cool and she has posted some songs on her blog.
She is open about her mental health struggles on twitter and is helping to break stigmas and start conversations about lots of important topics!
Is this worth a book hangover?
ABSOLUTELY! Nix is amazing and her story is exciting. Time travel is one of those things that can turn non-SFF lovers away, but here the people and intrigue are so good, you just want to keep turning the pages!
Read These Next
The Abyss Surrounds Us by Emily Skrutskie for more sailing adventures with intense lady characters and interesting beasts or Otherbound by Corinne Duyvis for a story that is driven by characters living in different worlds.
Post Author: Jess