More Happy Than Not by Adam Silvera
Summary:
Note: Try to read as little as possible about the book. Take my word for it, you want to read this with as little knowledge as possible about the actual plot so this post is as spoiler free as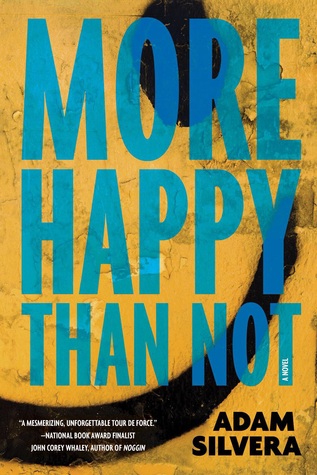 possible.
Aaron is struggling to deal with his father's suicide. His girlfriend does the best she can to bring him back toward happiness, but then she leaves for art camp and the distance between them pushes Aaron to spend more and more time with his new friend, Thomas. As their friendship grows, Aaron feels his old self returning, but his old group of friends does not approve of the new closeness between their buddy and the "new guy." As things reach a tipping point, Aaron discovers that some things are inescapable no matter how many times you try to elude them.
Romance Score: Good Effort
There was SO MUCH good here. Aaron and Genevieve are adorable with their "remember when" game and their sweet, thoughtful dates and their joy and panic about their first time. The slow tension of growing close with Thomas and trying to understand what that means is also sweet in its own way. I'm taking points away because of things that happen in the last half of the book (including a rather emotionless repeated action in an alley).
Feminist Score: You're Trying
Aaron's mom tried to put herself in between her husband and her kids, and that's something no mother should ever need to worry about. But, I appreciated her strength, her dedication to her sons' happiness, and her efforts to do her best. Again, a mother trying to do her best with very few good options.
At first, I was really excited by Genevieve and Aaron's relationship – they are so sweet, he obviously cherishes her, and the physical moments involve a lot of consent. But once Genevieve heads to art camp, things kind of fall apart and it hurt my heart to see her making choices so that she ends up with less than she deserves. Yet, by the end, it seems like things are turning around for her.
Diversity Score: Good Effort
There's a lot covered in this book – I got the sense reading that Aaron's family was Hispanic (and double checked for the review – they're Puerto Rican). In Aaron's neighborhood there's quite a bit of racial diversity – his boss has an "Arab accent" and his friends are varying skin tones. Everyone is lower income and I appreciated that this story incorporated details about that as part of the scenery and Aaron's life without making it an "issue." The biggest factor of the story, though, is with sexual orientation – Aaron slowly realizes what he thinks he likes may not be the true or only answer. The unfolding, unpuzzling of his feelings was sweet and painful and sad and joyful and made the story doubly poignant. With this it would seem that an A+ is in order, but events near the end made me dock a point. Yes, I know what happens reflects reality, but this book has just enough of a hint of the future that I had hope that maybe the end-of-book events could be excluded from Aaron's experience.
Awesome Factor: A+ Success
I LOVED this book. All the characters came together perfectly. Before reading, I had only heard that the book was amazing and a must-read, I was totally shocked when things started to come together and, as much of a gut-punch as it was, I LOVED it. Aaron was a sweet character – as a boyfriend and as a confused, sad teen. I wanted to date him or comfort him – or both. His story is going to stick with me for a while as I think about my own life and the things I wish I could escape.
---
Favorite Character
Thomas – He has amazing date ideas that he's not too miserly to share with a friend (rooftop planetarium? AMAZING) and highschool-me would totally want to date him. He also is an amazing friend to Aaron, being caring, honest, and gentle when Aaron opens his soul. I loved that he was comfortable enough to react the way he did and I'm so excited that teen readers will have him as an example of how to be a friend or ally.
Favorite Line
"Sometimes pain is so unmanageable that the idea of spending another day with it seems impossible. Other times pain acts as a compass to help you get through the messier tunnels of growing up. But the pain can only help you find happiness if…" (270)
Is this worth a book hangover?
ABSOLUTELY. I feel silly because I've been so enthusiastic about the books I've reviewed, but this is really an amazing book with great characters and an intense story. To prove it: it was a cool weekend in the middle of July and I stayed inside and read this book.
Fun Author Fact
Adam Silvera is really, really tall. Unfun fact: he struggles with depression. I mention this because I'm so thankful that authors are speaking up about these kinds of things and providing an opening for their (teen) readers to talk about them.
Read These Next
Simon vs the Homo Sapiens Agenda by Becky Albertalli for a cute, secret boy crush story or Lies We Tell Ourselves by Robin Talley for a story about overcoming confusion and prejudice.
Post Author: Jess
Jess loves SFF – old and new school –  and is learning to appreciate the more lovey-dovey YA under the careful tutelage of Anisha's recommendations.