The Smell of Other People's Houses by Bonnie-Sue Hitchcock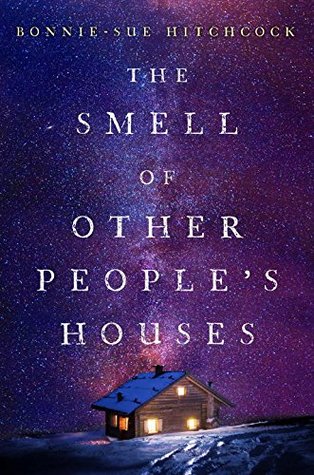 Summary
It's 1970 and Alaska is changing and so are the lives of everyone that lives there. It's not an easy life, and secrets make it even harder. Ruth, Dora, Alyce, and Hank are teenagers, but they much make decisions that will affect the rest of their lives now…and those decisions will change everything.
Romance Score: Good Effort
There are two romances: one shows how privilege protects boys/men from the consequences of their choices and the other is a sweet, sort-of-love-at-first-sight-but-not-really story. That they both happen to Ruth makes the second all that sweeter. Usually I think the insta-love is a little silly, but in this case the serendipity and the vulnerable place where each person is at the moment they meet made it seem reasonable to me (plus, my romantic side wants to believe!).
 Feminist Score: Good Effort
Parts of this book are hard. There's partner abuse, child abuse, a grandmother that thinks she knows best, religious morality restricting choices, and boys that do whatever they want and receive no punishment. But, there's also women that are respected, women that protect each other, women that work together to benefit the community, a grandmother that acknowledges her mistakes, and several teenagers that make empowering choices.
I feel like this is our most inconsistent category because in other books I would take points off for violence against women. But, it truly depends on the story and how it's dealt with. Domestic violence/violence against women and, especially, violence against Native women is a fact and Alaska does have higher rates of this, so to ignore it would be a lie. I feel that the community involvement and the character development with this story line make it a strength, not a weakness of the story.
And, most important for me, the women and girls (generally) stand up for, protect, and encourage each other. And, even if they don't do so at the beginning, they find a place of respect and love by the end.
Diversity Score: A+ Success
This is Alaska in the '70s, it had only been a state for 11 years and things were still settling down. Through the characters, we see how both Native and colonist/settler communities hoped and worked for a statehood that would benefit, not restrict them.
Through the girls, we see what life looks like for some Alaskan Natives – moved off their land, ridiculed, struggling with few resources, but also maintaining traditions through summer camps and sharing winter stores as a community. One of the comments that most struck me, though, was when the girls mentioned that teachers couldn't even get their affiliations right – that there are many tribes and groups in the area and that one does not equal the other. There was a sense throughout the book of the tensions between the two communities (Native and settler) and I appreciated that it didn't shy away from that.
I also liked that this book featured characters living in difficult economic situations. So often YA features (upper) middle class (white) characters and life looks very different for someone that worries about where their next meal will come from than about which shoes they'll buy for the dance. I am not saying the wealthy don't deserve stories, they have important things to say too, I'm just saying that we also need stories of people without wealth.
Awesome Factor: Between Good Effort and A+ Success
I really enjoyed this book. Almost to A+ Success levels.
I loved the setting and that we see a full picture of the community. I liked the characters and the variety of stories we got from them. I loved how the stories interwove with each other. I think this is an important, lovely book and I will recommend it. I think it touched on a lot of interesting and important topics that, although it took place in 1970, are still relevant today.
I think I'm held back because everything at the end wrapped up very nicely into a little bow and it just felt a little too perfect.
---
Favorite Character
I think I liked Alyce most. She had big dreams and she loves ballet, but she also guts fish and loves her family.
Favorite Line
….this whole book is beautiful. I loved the writing.
Fun Author Fact
Hitchcock worked in commercial fishing and radio before her book was published.
Is this worth a book hangover?
Absolutely. I really loved the characters, the story, and how much place plays a role in the narrative. I definitely recommend this!
Read These Next
Yaqui Delgado Wants to Kick Your Ass by Meg Medina for a contemporary, place-based story focused on family or Six of Crows by Leigh Bardugo for an ensemble cast set in a fantasy land.
Post Author: Jess